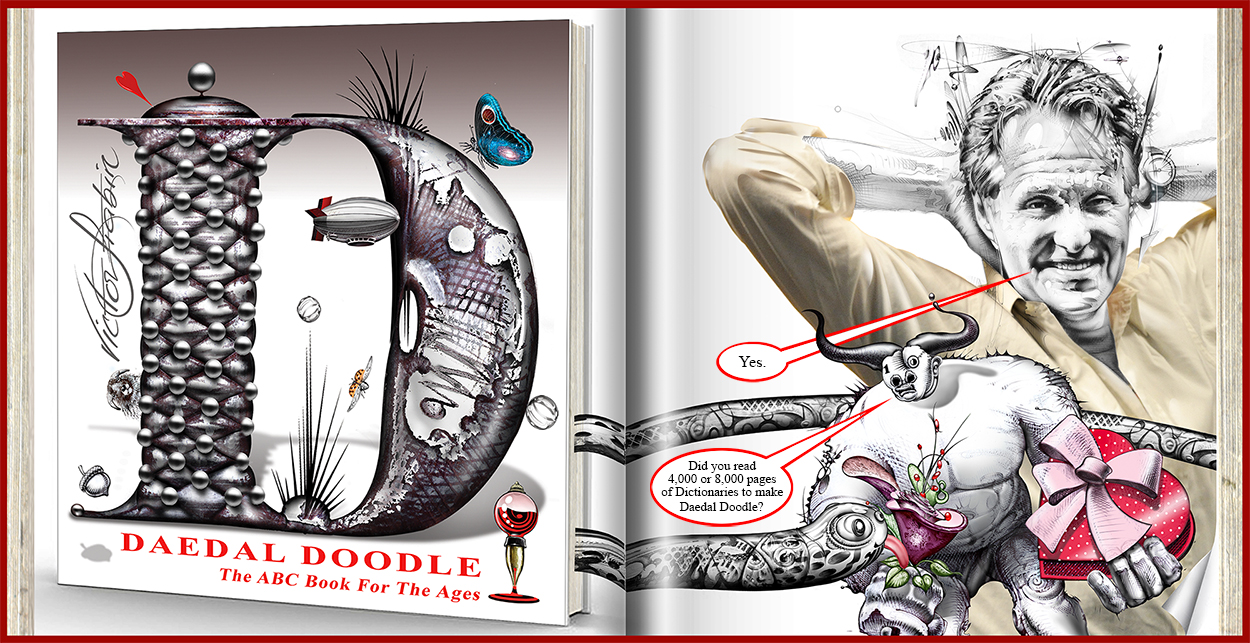 For almost three years, wherever he went, Victor Stabin brought a dictionary along. Combing through over 8,000 pages of dictionaries he discovered the words from which he would create Daedal Doodle.
Inspired by reading many, many "ABC" books to his young daughters, his love of words, an inability to stop his incessant doodling, he unflinchingly created the improbable alliterative combinations, illustrations, and sentences that inhabit this book.
Vain snails; a small headed monster looking for love; sub-atomic sheep and a prehistoric horse with a dental hygienist captivate readers in illustrations, quirky words, and illuminating definitions. A to Z – learn about the narcissistic Apperceptive Achatina to the aerostatic importance of the Zooid Zeppelin's Zygote.
AESOP STYLE CAUTIONARY TALES
Where NPR (style) broadcasting clams will introduce you to …
The Apperceptive Achatina – After hearing about what's happening to frogs, this self-reflective Giant African Snail ponders his demise while gazing at his reflection in the toaster.
The Bifoliated Bonito – A mackerel that's part fish and part oak tree finds out he's swimming in a pharmaceutical cocktail of Prozac, Lipitor, Ambien, and Viagra; And he loves it!
The Caoutchoucoidal Chelonia – An extraordinarily long-necked rubber bush eating turtle becomes an NPR commentator and a crusader for oceanic preservation.
Stories by Victor Stabin with guest authors Carl Safina, Marshall Arisman, Tad Crawford, Paul Maupin, and the ever beautiful Andy Lanset.
Learn how a simple vocabulary treasure-hunt expands visual and literary imagination, beyond expectation.


Daedal Doodle started out with 'A is for Anti-Gravity Acorn'. Although a lot has changed since the first page's inception, the acorn theme was destined to remain. The acorns appear on every page of the book, except one. I knew kids would love searching for the little gems, what I didn't know was that looking for them would be a quest for all ages. I've counted up to 57 nuts; there are more, I just don't know where I put them. Let me know how many you find.
I'm curious to see what turns up; Really!