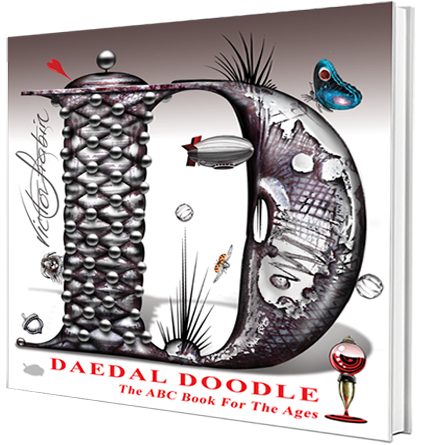 My daughter Skyler prompted the creation of this book and one of the first to get excited about Daedal Doodle. When she was two I taught Skyler—considered a very high verbal—how to say, "My daddy is a megalomaniac." Kids don't realize they are not supposed to know how to use advanced words.
"Acorn Daddy". For a couple of weeks at age three, Skyler prefaced everything she said with "acorn," so I decided to make an ABC book for her. Originally the first page of the book was "A is for Anti-Gravity Acorn". I then transitioned my source for the book from Skyler to the Oxford English Dictionary.
For three decades, I had been an avid dictionary user. As I started to use the dictionary for source material, I realized this book would only be fun for me if I challenged myself. My goal was to make the ordinary extraordinary by finding words that were real but that most people think are not. I looked for words that sounded cool and obscure – this idea was so exciting to me; it eliminated the pain of not painting.
My painting efforts had been distracted by the process of rehabilitating a 150-year-old, 15,000 sq. ft. industrial building that my wife and I purchased in 2003. Picasso said, "I cannot work except in solitude." It seems I couldn't paint in the maelstrom of renovations, but I can draw while drinking a glass of water and standing on my head.
The book idea was a simple assignment, look up words that lent themselves to narratives. I combed through 8,000 pages of various dictionaries, looking for alliterative couplets that eventually became my wacky revue of improbable characters.
Love for my daughter, for words and for drawing propelled me through this astonishing maze of implausible alliterative combinations. I knew in my heart I was creating a work that, while complex, would challenge the ABC status quo! I hoped to remove the boundaries between young and old, simple and sophisticated in the same style I see when I read the works of Theodor Geisel, better known to most as Dr. Seuss.


The Metropolitan Museum of Art, New York, NY
The High School of Art and Design, New York, NY
School of Visual Arts, New York, NY
Panther Valley School District, Lansford, PA
Crayola, Easton, PA
Carbon Career and Technical Institute, Jim Thorpe, PA
Allentown Art Museum of the Lehigh Valley, Allentown, PA
Tamaqua Area School District, Tamaqua, PA
The Metropolitan Museum of Art, New York, NY
The High School of Art and Design, New York, NY
Nightingale-Bamford School, New York, NY
Saucon Valley Middle School, Hellertown, PA
SHINE After School Program, Carbon County, PA
Victor Stabin was born in Brooklyn on March 5, 1954. He is an American artist, "eco-surrealist" painter, author and illustrator. He is noted for his work in education and has used his book Daedal Doodle as a teaching tool in several schools, an endeavor sponsored by the National Endowment for the Arts.
Stabin's father, Jack Stabin, invented scientific instrumentation and worked on the Manhattan Project. His mother Florence was a piano teacher in Brooklyn. Stabin began his formal education as an artist at the Art Students League of New York attending summers from age 13 to 17. He also attended the High School of Art and Design from which he graduated in 1972. He then studied at Los Angeles' Art Center College of Design before continuing his education at the School of Visual Arts in New York City.
Stabin began his career as an illustrator. He worked for numerous different publications including Newsweek, The New York Times, Time Magazine and Rolling Stone as well as designing book covers for publishers Penguin Books, Random House, and others.Some of his most well-known work as an illustrator includes painting nine stamps for the United States Postal Service, the cover for KISS' album Unmasked, and a mural for RCA/BMG's headquarters.
Stabin moved his focus from illustration to painting after successfully beating cancer in his mid-40s and has gone on to produce an impressive suite of eco-surrealistic paintings called the Turtle Series.